Jewish Federation Collage Event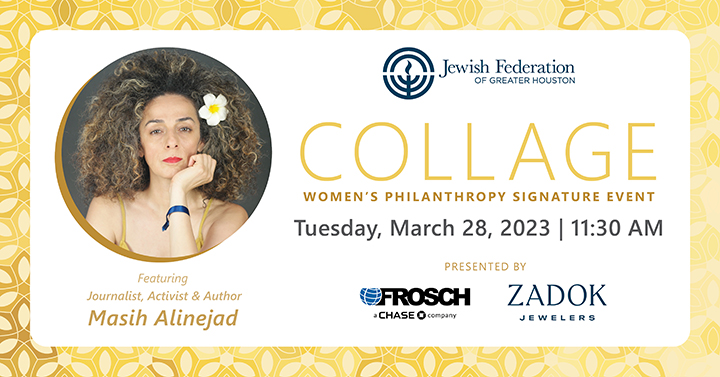 March 28, 2023 10:30AM - 1:00PM
COLLAGE will be Tuesday, March 28. Registration is now open. We are honored to welcome our featured speaker Masih Alinejad. Masih is an Iranian-American journalist, campaigner for women's rights, and author of the best-selling memoir, The Wind in My Hair.
Masih is the recipient of the 2022 American Jewish Committee (AJC) Moral Courage Award. In addition, The Washington Institute for Near East Peace Policy awarded Masih the Scholar-Statesman Award, and she shared the honor of receiving the 2022 Oxi Courage Award, presented by the Washington Oxi Day Foundation, with co-recipient, Ukraine President Volodymyr Zelensky.
Show your support by becoming a Table Sponsor or Table Captain today. As either a business or individual sponsor, you can support the Federation, gain fantastic visibility benefits, and bring new people to Collage.
Click on View More Info below to register.