Temple Beth Torah: Jews in Baseball Free Zoom Event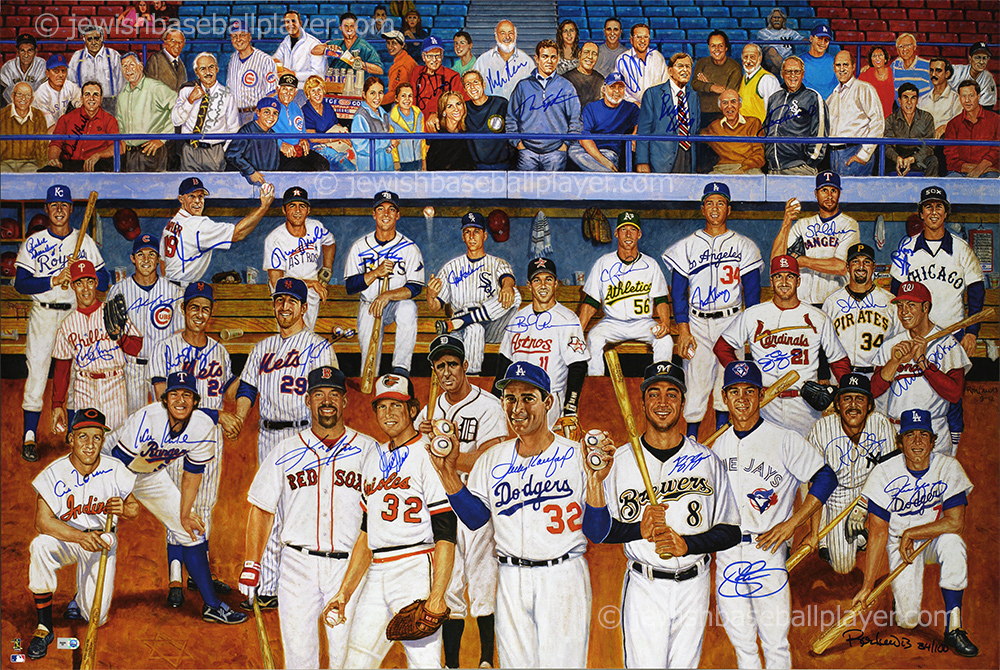 October 03, 2021 5:00PM - 6:00PM
Please support Temple Beth Torah by coming to this FREE Zoom program
and/or buying a raffle ticket. Info below – forward to ANYONE!
JEWISH BASEBALL PLAYERS! WHO KNEW?
ZOOM IN TO HEAR A FASCINATING TALK ABOUT JEWS IN BASEBALL, PAST AND PRESENT –
AND HOW ART BROUGHT THEM TOGETHER
RAFFLE TICKETS AVAILABLE NOW TO WIN A PERSONALIZED PAINTING OF JEWISH PLAYERS WITH YOU IN THE STANDS!
Program:
On Sunday, October 3rd at 5:00 PM Central Time, you are in for a Zoom treat! Greg Harris, a Chicago resident and baseball fan, had a dream: to bring together Jews
who have contributed to the National Pastime and put them all in a painting. He contracted with Major League Baseball and artist Ron Lewis to make it happen.
The painting includes 26 Jewish baseball stars, including All Stars, Hall of Famers, MVP's, Cy Young Award winners and World Series Champions,
plus several other prominent Jewish figures in the stands. The painting was an exciting project, and the stories behind the stories, as Greg recounts,
will rekindle your baseball spirit!
The Zoom program, lasting approximately one hour, is FREE! Click on the link to join the October 3rd program:
https://us06web.zoom.us/j/85908983893?pwd=VFhsZHhnM3FGbmM5R3Uwd3A5UWs5QT09
Raffle:
As a fundraiser, Temple Beth Torah is raffling off a personalized replica of the painting, with the winner choosing to put one person in the stands painted in by the artist
(multiple people can be added for an additional cost). The painting is framed and shipped to the winner's home, free of charge.
Tickets are $25 each or 5 for $100.
Purchase raffle tickets by going to the Temple Beth Torah website:
www.tbthumble.org
Click on "Donation" and then click on "Baseball Art Raffle."
Tickets can also be purchased by sending a check made payable to: Temple Beth Torah to 320 Shallow Drive, Humble, TX 77338. Please write "Baseball Raffle"
in the memo of the check and include your email address. All checks must be received by September 30.
You will receive a confirmation email that your donation has been received.
All proceeds will be used to help with Temple Beth Torah's ongoing programming.
The painting is on display at Temple Beth Torah. To see a replica of the painting and list of players and other Jewish personalities depicted in the stands, you can visit www.jewishbaseballplayer.com
Please feel free to pass this along to those who love Baseball, Judaism or BOTH!
For more information, contact: admin@tbthumble.org or call (281) 446-5611.