Our Impact
The Jewish Federation of Greater Houston is the leader in mobilizing our community's response to the local and global needs of the Jewish people.
We fund programs that strengthen our people, advocate on behalf of our shared values, and educate every generation to ensure our traditions endure. By supporting our community at all levels, the Federation enhances Jewish continuity and sustains each of us.
Through the support of our generous donors, the Federation is pleased to offer funding to support organizations and programs that serve the Jewish community of Houston, Israel, and around the world.
You spoke, we listened.
Incredibly, we heard from more than 1,200 members of our community in the Greater Houston area around what you want for Houston's Jewish future.
We held conversations in homes. We gathered in bagel shops. We processed in multipurpose rooms of synagogues and schools from Meyerland to Humble to Sugar Land and beyond. More than 50 volunteers (some of whom are pictured above) have made listening to this community a priority in their daily lives each week since we kicked off the project in September. We are grateful for their dedication. Together we experienced the power and beauty of making new connections in our community.
Through this project, we identified a number of themes and topics that were weighing on the hearts and minds of our community. As we processed the information, we looked not only at how often particular topics emerged, but also focused on the specific ideas you brought to the table so we could use them to guide next steps.
If you participated in Hineni Houston, thank you. We appreciate you sharing your perspectives with us. Your commitment to our Jewish future is crucial.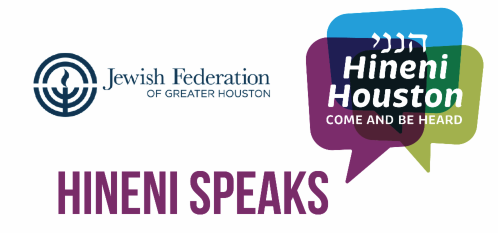 The work of the Federation makes our world a better place.