Latkes with a Twist Hanukkah event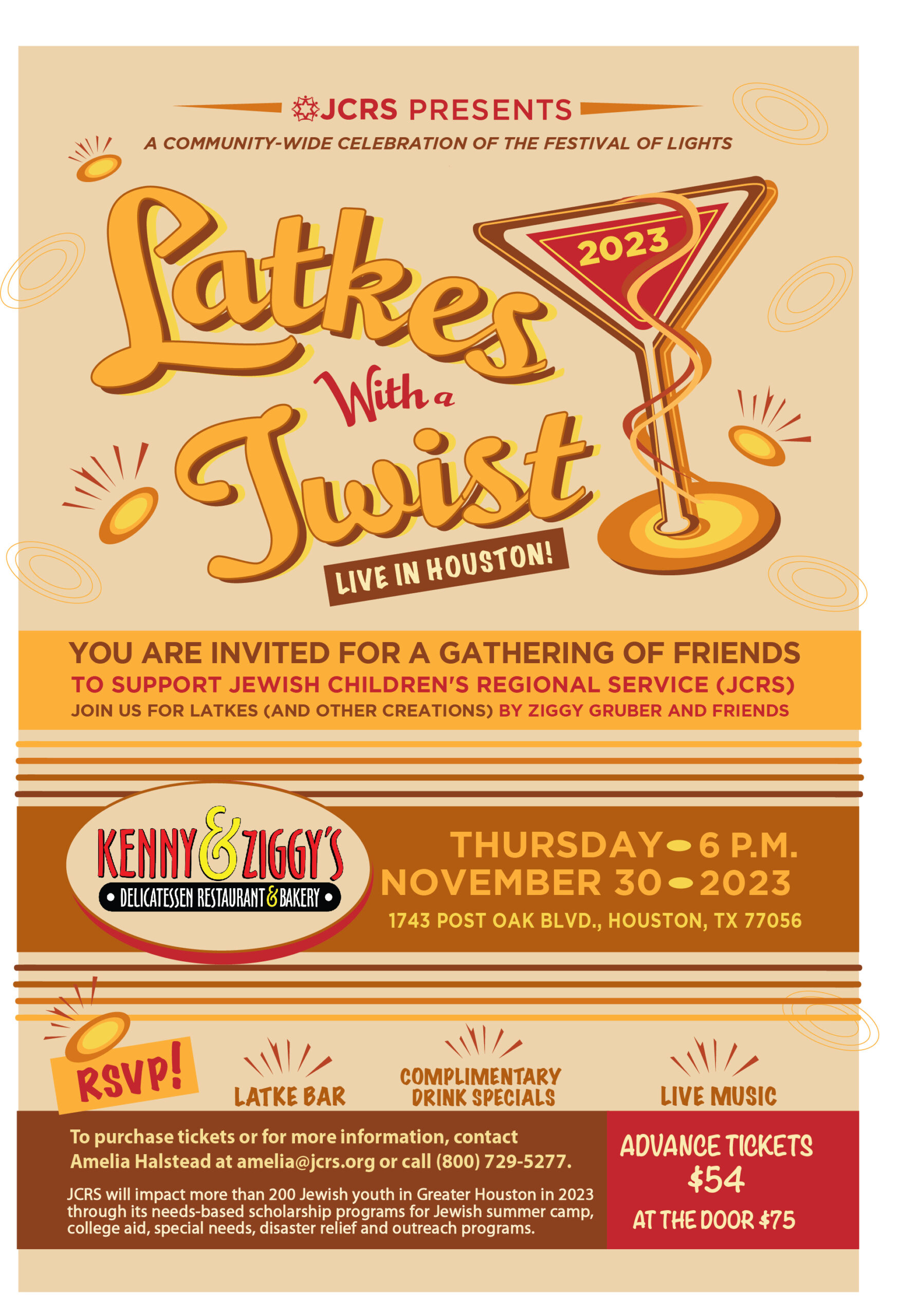 November 30, 2023 6:00PM - 9:00PM
Jewish Children's Regional Service (JCRS) will host its 1st Annual Greater Houston community-wide Hanukkah party, "Latkes with a Twist," on Thursday, November 30, 2023, at 6:00 pm at Kenny & Ziggy's Delicatessen Restaurant and Bakery located at 1743 Post Oak Blvd. The Washington Post has listed the New Orleans Latkes with a Twist event as one of the Top 10 Hanukkah parties in the US!
Ziggy Gruber, award winning chef and philanthropist, will create a fabulous and delicious Latke Bar with all the fixings and accompaniments. The evening will also feature live music from The Kosher Klezmer Band, an open bar featuring a Vodka Latke Punch, a Buffalo Trace Old Fashioned Hanukkah Hi-Ball, wine and beer.
The event will begin at 6:00 pm. Tickets are $54 per person in advance ($75 at the door) and are available at (800) 729-5277 or online at https://jcrs.org/events/latkes-with-a-twist/. Event Sponsorships are available by calling Amelia Halstead at (800) 729-5277 or email amelia@jcrs.org.
Houston Community Partners include Congregation Beth Israel, Congregation Beth Yeshurun, Congregation Emanu El, Camp Young Judaea – Texas and URJ Greene Family Camp. The Jewish Herald-Voice is the event's media sponsor.