Israeli Folk Dance Workshop with Marcelo Marianoff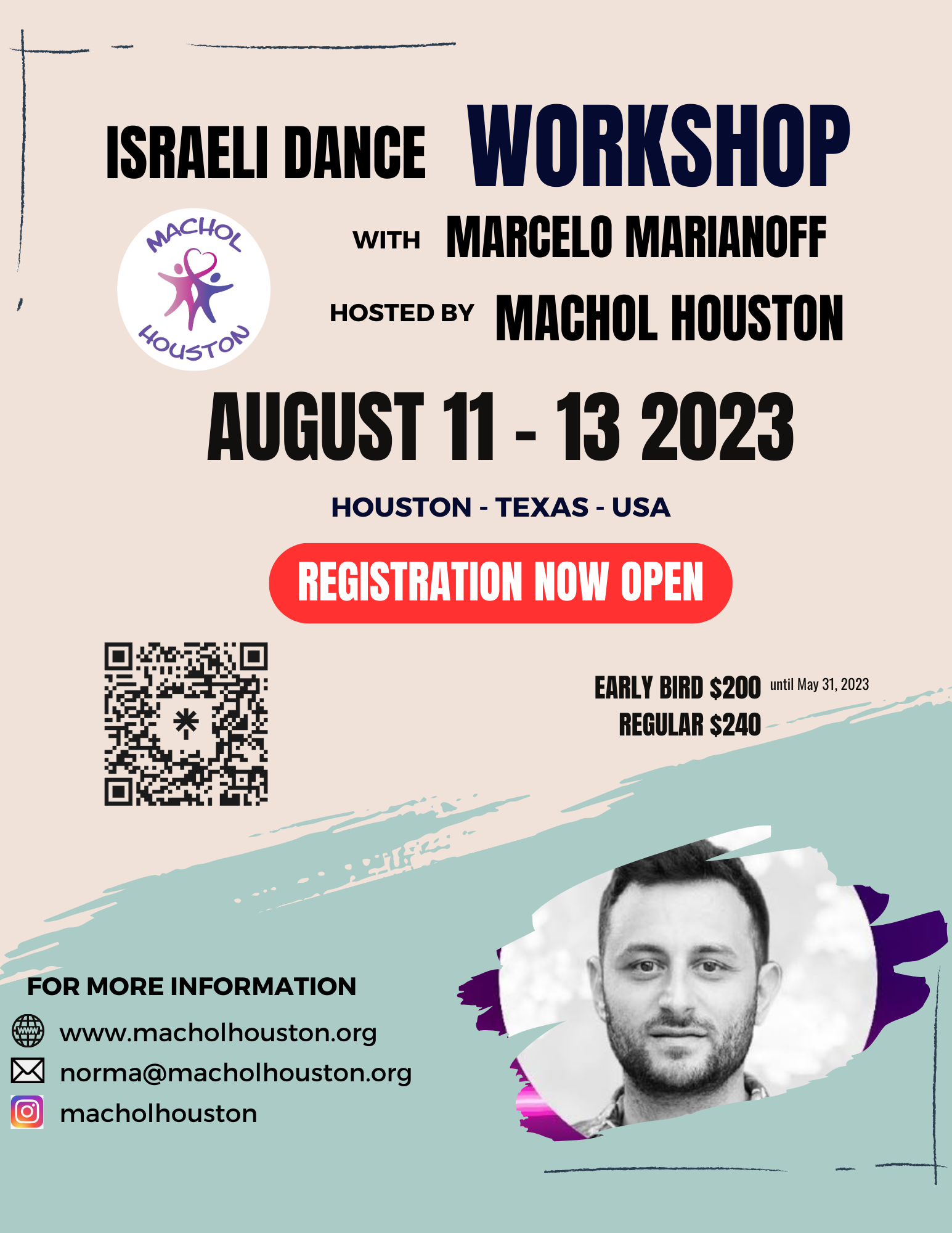 August 11, 2023 6:00PM - August 13, 2023 10:00PM
Machol Houston, a Houston based 501c3 Non-Profit organization with the mission of preserving, promoting and carrying on our culture and traditions through dance and music is excited to announce our 2nd annual Israeli Folk Dance Workshop to be held in Houston, Texas the weekend of August 11th to 13th 2023 lead by Marcelo Marianoff. Marcelo is an Israeli dance teacher, stage choreographer and workshop leader from Argentina. He leads festivals, camps and workshops around the world. He will bring his dynamism, knowledge, energy and experience to Houston, Texas.
For more information about the upcoming workshop (location, agenda, etc) visit https://macholhouston.eventbrite.com
Israeli folk dance / Hebrew: ריקודי עם, rikudei 'am, lit. "Folk dances" / (Rikudim) are uplifting and energizing circle and line choreographed dances set to traditional music. These dance gatherings, sometimes planned and sometimes impromptu, came about as a way of building a cultural bond in Israel.
Whether you are a fresh beginner or experienced dancer, we warmly welcome you to our weekly dance gatherings. You will have the opportunity to learn and grow your Israeli Dance skills and come away energized by music, exercise, teamwork, and friendship!
For more information about Machol Houston and to support our mission please visit https://www.macholhouston.org
Come and join us and feel the JOY of Israeli Dance and Music!