Seven Acres Switches Up Programming to Keep Residents Active and Connected
May 20, 2020 – Daily activities enrich life for residents at Federation-partner agency Seven Acres Jewish Senior Care Services. During the COVID-19 pandemic, the building closed its doors to visitors to keep residents safe and healthy, which also meant they could no longer have regular visits from family members.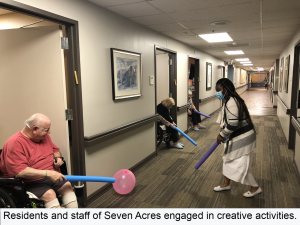 Technology has been key to keeping the world connected, but at Seven Acres there is a learning curve for some residents and not all have access. The activity departments have been providing devices so residents can text, Skype, FaceTime, and Zoom with their loved ones, and have offered tech support to anyone who needs it.
"At Seven Acres, our staff is going from room to room with iPads and rolling computers to help everyone connect with families," said Jill Newman, Seven Acres Life Enrichment Director.
Even activities among the residents had to change to allow for social distancing so the essential staff had to get creative with activities such as hallway Bingo. To participate, residents sit just inside the doorway to their room using a tray table while the bingo numbers are called over the loudspeaker. Each resident has a supply of bingo cards and chips in their room that they can alternate.
"Berta Roth, one of our residents on the second floor, was interested in joining her friends on the first-floor for their hallway bingo," Newman said. "Her family had dropped off an iPad that she can use to communicate with them. Our Life Enrichment supervisor, Phyllis Kemp calls the bingo game and she was able to connect to Berta on her iPad so that she could join the game."
The Federation supports Seven Acres with an allocation from its Annual Campaign. As the COVID-19 pandemic continues to evolve, Seven Acres will need to continue to adapt to support its residents. The Federation will continue to provide support including help with sourcing PPE for staff.