It is the Moments that Matter
May 08, 2020 – From the Desk of Kari Dunn Saratovsky

On a recent Sunday, Aerin Kalmans (pictured below with her mother Elyse), a 20-year-old college sophomore who is currently back home in Houston, picked up the phone on behalf of the Federation to call a 93-year-old man she had never met. She was calling just to check in.
"How much time do you have?" he asked.
"All the time in the world—literally," she replied.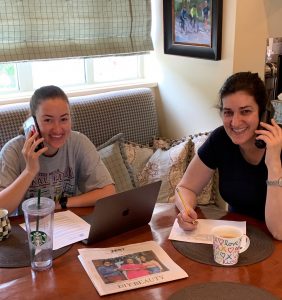 During their 30-minute call, he sang her songs and she learned a little about his life. He shared that he was a World War II veteran who had taken up painting, and he is now trying to sell his artwork to raise money to help fight the virus. She also found out that while he is doing well, he misses being able to visit his wife who lives in a nursing home here in Houston. Aerin and the man are now Facebook friends, and they plan to stay in touch.
This moment matters. Our lives have changed so much recently that we need to celebrate the times when we can connect to each other and to our Judaism.
This was just one of many powerful stories that occurred because of the Federation as we pivoted our normal activities and held two Super Community Check-ins. Instead of our typical Super Sunday fundraising calls, 150 volunteers spent two Sundays this past month making calls to check in on more than 1,500 older members of our community to offer support to anyone who needed it. Any calls with more serious needs were referred to our partner agency, Jewish Family Service.
The Federation has a long history of responding to community needs during crisis situations and this crisis is no different. Everything we do as individuals, as leaders, and as a community will define who we are when this crisis is over. It is these moments – where we choose to connect, to encourage, to strengthen, and to support – that make a difference.
COVID-19 represents a challenge to all of us in varying degrees. For some, it is frustrating and a grave inconvenience. For others, it is life changing, scary and a very real threat. For all of us, it represents the opportunity to ensure that our community does what we do best—come together and support one another.
The Jewish Federation is regularly convening institutions and partners across the community to assess the ever-evolving needs, to share resources, and to help with strategic decisions that impact Jewish life in Houston and around the globe. Conversations, connections, and the sharing of best practices are essential to moving us forward through this challenge.
We are committed to you, our community, and we will be transparent with you about what we learn and what role we can each play during this critical moment. To help more directly, we recently launched a $5 million COVID-19 Emergency Appeal to help the most vulnerable during this time and to address the most acute needs in our community. If you would like to learn more, please visit our
website
.
The regular work of the Federation continues. Our staff will also be putting significant effort in the coming weeks into contacting those who have not yet made a gift to the 2020 Annual Campaign.
Now more than ever, these gifts will help support critical services for people in our community who are directly or indirectly impacted by this pandemic. A successful Campaign is essential to us upholding Federation's role as philanthropic champion on behalf of the whole community.
If you would like to and have not yet donated to our Annual Campaign, you can do so
here
.
Just as we learned from Aerin Kalmans and her new and unexpected 93-year-old friend, moments matter. We are relying on you now more than ever.
Wishing you a safe and peaceful Shabbat, and one that is full of moments that matter.
Shabbat Shalom,
Kari Dunn Saratovsky
President & CEO