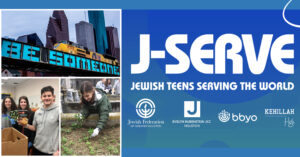 J-Serve 2022
REGISTER NOW:
JServe 2022 Day of Service – Sunday, April 3
Please use this link to sign up for one of our JServe Projects!
This program offers opportunities for teens to learn about different community causes and take action to make a difference. If you are a Jewish teen interested in service and supporting the needs of those in our communities, register for as many sessions as you like. Community service hours will be granted for attendees.
About the local leaders
Our regional J-Serve is a collaborative partnership between teen leaders across Houston, Austin, and San Antonio, supported by professional multi-generational leaders from BBYO, Kehillah High, the Evelyn Rubenstein JCC, and the Jewish Federation of Greater Houston.
About J-Serve
Every year, Jewish teens around the world join each other throughout the spring to make their community and the world a better place. This year, teens can redefine what service looks like, making a direct impact on the issues that affect our communities in new and exciting ways.
Since 2005, J-Serve has provided teens with a unique opportunity to band together through service as a united global network committed to fulfilling the Jewish values of gemilut chasidim, acts of loving kindness, tzedakah, just and charitable giving, and tikkun olam, the responsibility to repair the world.
The international initiative is generously underwritten by The Charles and Lynn Schusterman Family Foundation in partnership with Good Deeds Day, Jewish Teen Funders Network, Repair The World, Shalom Corps, and YSA's Global Youth Service Day.