Rick Recht Weekend: Rick Recht in Concert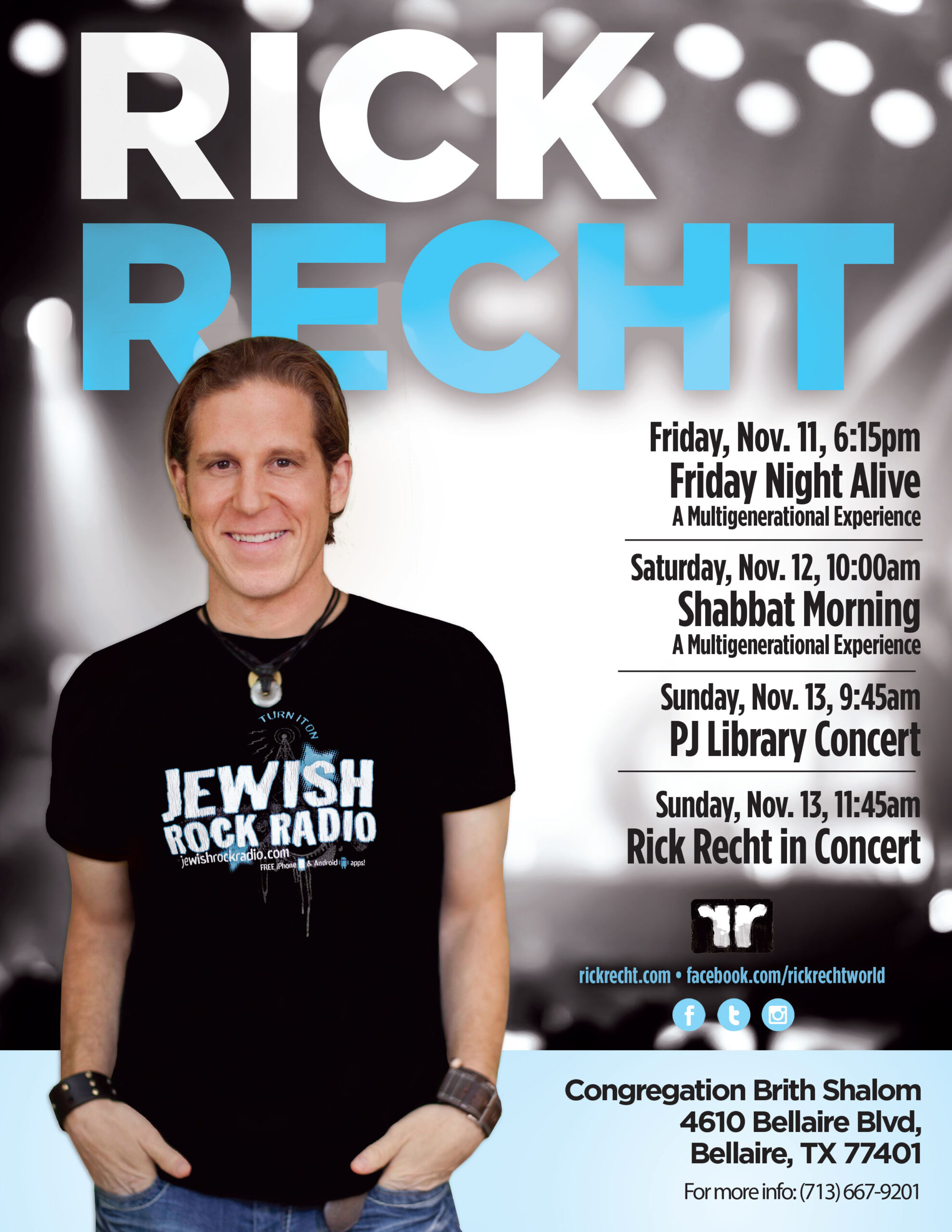 November 13, 2022 11:45AM - 12:30PM
Rick Recht is one of the most influential and celebrated Jewish artists and leaders of our time. His innovations in Jewish music, media, and leadership training have had a profound impact on the fabric of Jewish life. Recht is the national celebrity spokesman for PJ Library and the founder and Executive Director of Songleader Boot Camp (SLBC) – a premiere national leadership training conference. He is also the founder and Executive Director of Jewish Rock Radio (JRR) and JKids Radio, the first high-caliber, 24/7 international Jewish music radio networks. Additionally, Recht serves as Artist in Residence at United Hebrew Congregation in St. Louis, Missouri.
For the last 20 summers, Recht has played at literally hundreds of URJ, Ramah, JCC and private camps around the country. He has been featured in concert and as scholar in residence at the NFTY, BBYO, and USY International conventions, the URJ Biennial, the American Conference of Cantors, the Central Conference of American Rabbis, and Jewish communities across the U.S. Recht has 13 top-selling Jewish albums including his most recent release, Here I Am.
"From the beginning, my mission has always been to strengthen Jewish identity and engagement for Jewish youth, teens, and families. I see myself as a connector and elevator of community," says Recht. "My greatest goal is it identify, support, and train new Jewish artists, educators, and leaders who will provide inspiration and connection for generations to come."
Born and raised in St. Louis, Recht developed a strong Jewish identity attending Traditional Congregation, a conservative synagogue. In high school, Recht joined NFTY, where he was deeply influenced by Jewish music. After graduating University of Southern California (Los Angeles, CA) and Music Institute (Hollywood, CA), Recht hit the road touring nationwide from LA to New York playing at clubs, colleges, and amphitheaters. Recht shared the stage with national acts such as Chris Rock, The Guess Who, America, Supertramp, Three Dog Night, The Samples, Vertical Horizon, Government Mule (Allman Brothers), and many more. Recht returned to his Jewish roots with his debut Jewish album, Tov, in the summer of 1999. His shift to Jewish music marked the birth of a unique blend of pop, radio-friendly music with Hebrew, Jewish text, and social responsibility.
After touring heavily for several years in the Jewish world, Recht realized he wanted to expand the scope of his impact. "I believed that the Jewish world needed more leadership training opportunities and communication channels for thought-leaders and artists to share their messages and music," he says. This was his inspiration to launch Jewish Rock Radio and Songleader Boot Camp leadership training programs in 2009.
When Recht is not on the road rocking Jewish communities from coast to coast, he enjoys spending time with his wife, Elisa, and sons, Kobi and Tal.