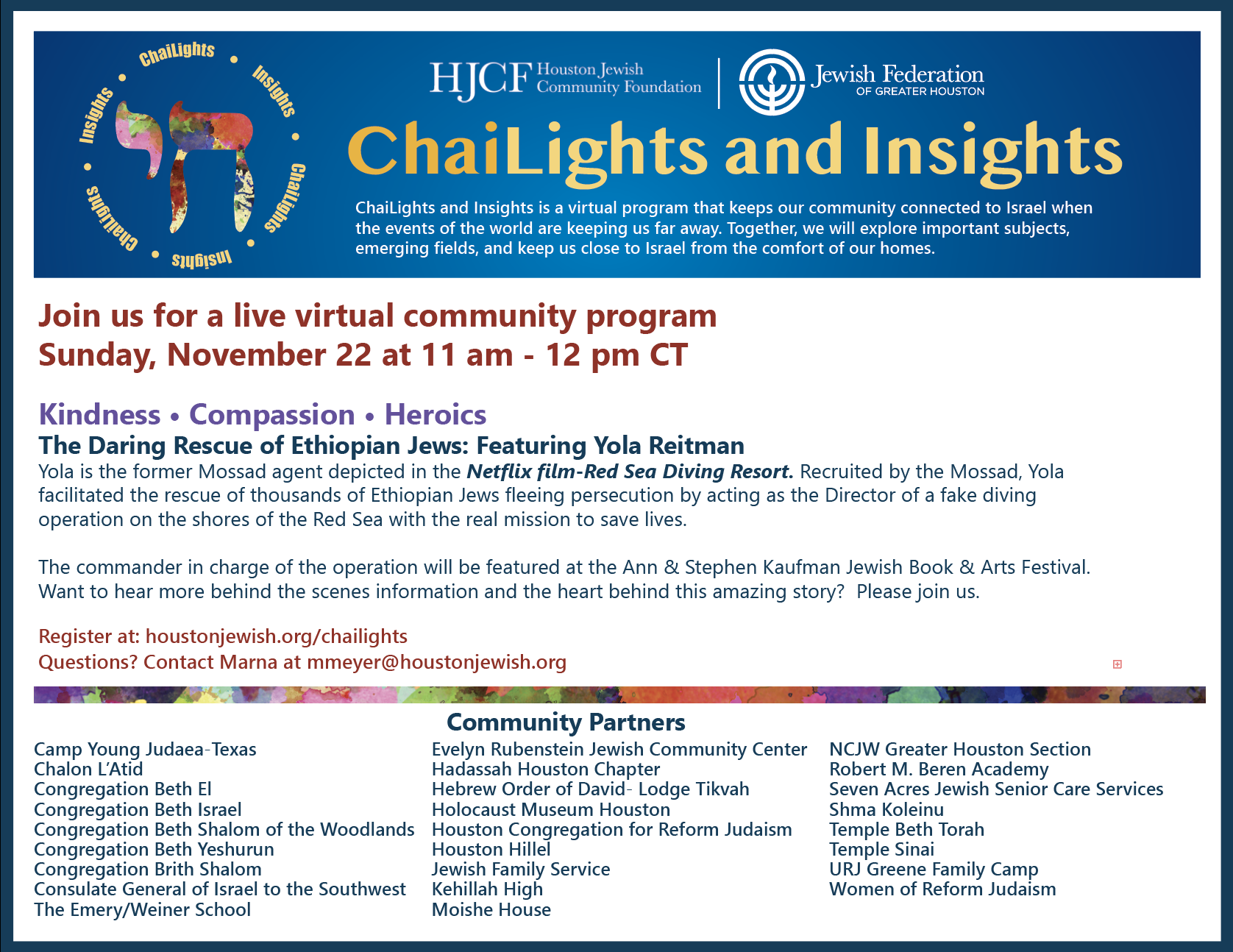 November 22, 2020 11:00AM - 12:00PM
ChaiLights and Insights is a virtual program that keeps our community connected to Israel when the events of the world are keeping us far away. Together, we will explore important subjects, emerging fields, and keep us close to Israel from the comfort of our homes.
Join us for a live virtual community program
Sunday, November 22 at 11 am – 12 pm CT
Kindness • Compassion • Heroics
The Daring Rescue of Ethiopian Jews: Featuring Yola Reitman
Yola is the former Mossad agent depicted in the Netflix film-Red Sea Diving Resort. Recruited by the Mossad, Yola facilitated the rescue of thousands of Ethiopian Jews fleeing persecution by acting as the Director of a fake diving operation on the shores of the Red Sea with the real mission to save lives.
The commander in charge of the operation will be featured at the Ann & Stephen Kaufman Jewish Book & Arts Festival. Want to hear more behind the scenes information and the heart behind this amazing story? Please join us.
Thank you to our Event Community Partners:
Camp Young Judaea-Texas
Chalon L'Atid
Congregation Beth El
Congregation Beth Israel
Congregation Beth Shalom of the Woodlands
Congregation Beth Yeshurun
Congregation Brith Shalom
Consulate General of Israel to the Southwest
The Emery/Weiner School
Evelyn Rubenstein Jewish Community Center
Hadassah Houston Chapter
Hebrew Order of David- Lodge Tikvah
Holocaust Museum Houston
Houston Congregation for Reform Judaism
Houston Hillel
Jewish Family Service
Kehillah High
Moishe House
NCJW Greater Houston Section
Robert M. Beren Academy
Seven Acres Jewish Senior Care Services
Shma Koleinu
Temple Beth Torah
Temple Sinai
URJ Greene Family Camp
Women of Reform Judaism
Click on the View More Info button below to register
Questions? Contact Marna at mmeyer@houstonjewish.org