Brith Shalom MLK-Inspired Friday Night Gospel Ruach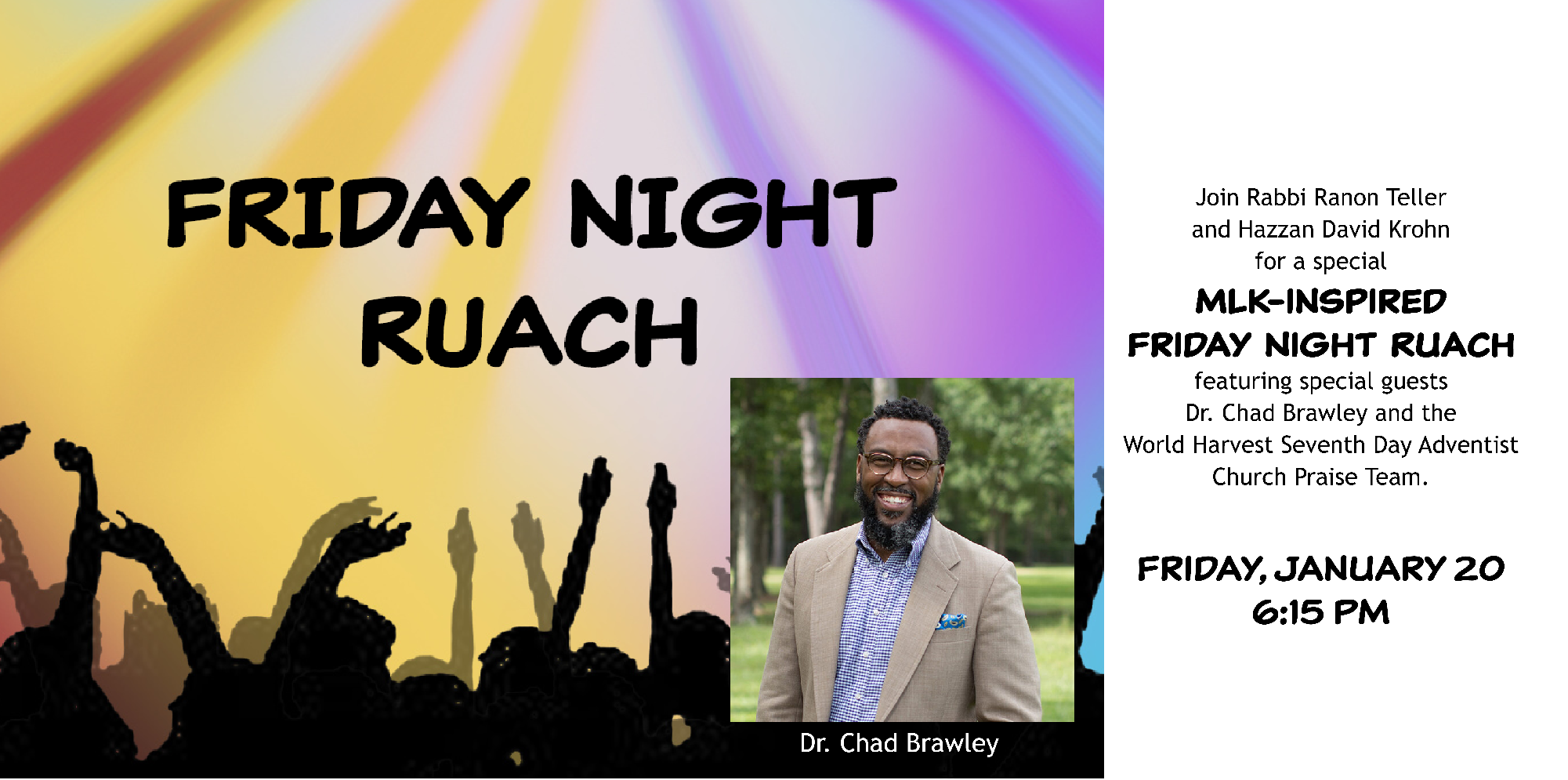 January 20, 2023 6:15PM - 8:00PM
Congregation Brith Shalom presents a special Gospel Friday Night Ruach Service Friday Night, January 20th at 6:15 PM, in celebration of Dr. Martin Luther King Jr. Day.
The services, which are open to all, feature Rabbi Ranon Teller and Hazzan David Krohn leading the congregation with voice, soul, and guitar in a joyful, contemporary, participatory Shabbat experience. Also featured will be special guests Dr. Chad Brawley and the World Harvest Seventh Day Adventist Church Praise Team!
Friday Night Ruach services celebrate the spirit of Shabbat. All ages enjoy the uplifting service that is alive with song and joy. After an inspiring service, everyone is welcome to join in the synagogue social hall for a delicious light Kiddush supper.
Join Congregation Brith Shalom in celebrating Dr. Martin Luther King Jr. in prayer and song!
About Dr. Chad Brawley
Dr. Chad Brawley, a native Houstonian, has worked in full-time ministry for over twenty years. He has had the privilege of serving some of America's most noted ministries, such as The Potter's House of Dallas, Heritage Christian Center of Denver, Good Hope Baptist Church, and Wheeler Avenue Baptist Church of Houston. Brawley has also served World Harvest Outreach, formerly Bellfort Seventh Day Adventist Church. Currently, Dr. Brawley serves as the Pastor of Worship Arts at The Luke Church of Humble, Texas. Known for its strong music and creative excellence, The Luke Church stands as a beacon that facilitates fervent worship experiences intended to impact virtual and live parishioners weekly.