Brith Shalom: Jewish Legends of Broadway featuring Hazzan David Krohn in Concert with Mark Nadler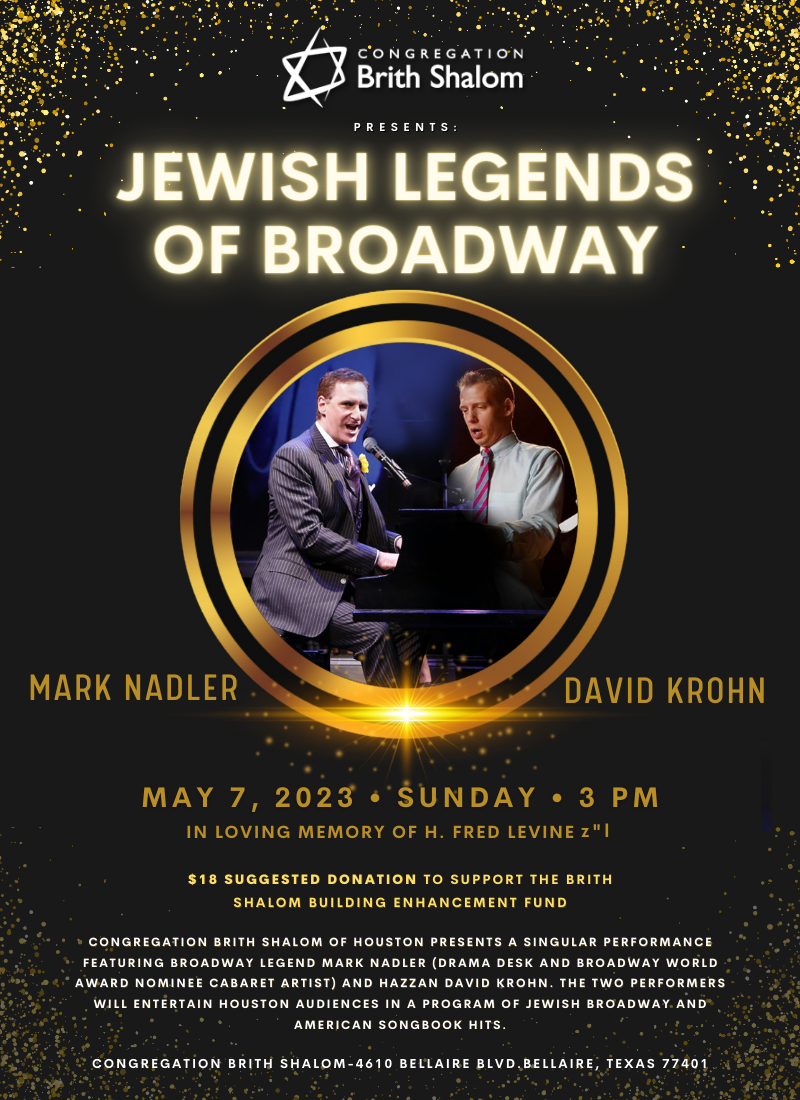 May 07, 2023 3:00PM - 5:00PM
Congregation Brith Shalom of Houston presents a singular performance featuring Broadway legend Mark Nadler(Drama Desk and Broadway World Award nominee cabaret artist) and Hazzan David Krohn. The two performers will entertain Houston audiences in a program of Jewish Broadway and American Songbook hits.
Tickets are free of charge and open to the public, with a suggested donation of $18: Click here for tickets.  (https://www.brithshalom.org/form/2023DavidKrohnConcert)
The concert will additionally serve as a special fundraiser for Congregation Brith Shalom to beautify its facility, which is home to approximately 500 families and the Goldberg Montessori School, the oldest Jewish Montessori Early Childhood program in the Southwest. Initial support from leadership families within the congregation have raised over $300,000.
This concert is presented in loving memory of H. Fred Levine z"l. Donations support the Brith Shalom Building Enhancement Fund.
Mark Nadler is an internationally acclaimed singer, pianist, tap-dancer and comedian. He is the recipient of the 2015 Broadway World Editor's Choice Award for Entertainer of the Year. His off-Broadway hit, I'm a Stranger Here Myself, has been honored with the 2013 Nightlife Award Mark Nadler and was nominated for a Drama Desk Award and two Broadway World Awards. The show was presented at The Adelaide Cabaret Festival in Adelaide, Australia, where it was nominated for the prestigious Helpmann Award. Additionally, Mark Nadler's Broadway Hootenanny has become a staple of the Adelaide Festival. For more information about Mark Nadler, visit his website at: www.marknadler.com
Hazzan David Krohn has served as Hazzan at Congregation Brith Shalom since 2015. Krohn is a classically trained opera singer and Cantor with a master's degree from The Juilliard School. David has enjoyed solo engagements with the New York Philharmonic, debuts on stages in over forty opera roles with leading opera companies throughout the world, and solo performances in all four theaters of Carnegie Hall. In addition to his Cantorial and operatic work, in 2005 David began a series of successful Yiddish and Hebrew concerts, sharing Jewish music with audiences across the United States, including sold out performances in Houston's Evelyn Rubenstein Jewish Community Center (ERJCC) and Brith Shalom.
Nadler and Krohn will reunite for this one performance at Brith Shalom after a ten-year gap in performing together. The two artists were regularly featured as soloists in symphonic concerts across the United States and Canada with celebrated pops conductor Jack Everly.
Hazzan David Krohn says, "Mark has been a cherished mentor and role model throughout my entire performing life. He is one of the artists I respect the most. His commitment, passion, and love for entertaining blow me away. I can't wait for Houston audiences to experience his artistry. It will be an afternoon they never forget."